Yoga - Teachers
All Inner Cor teachers are highly qualified, having completed 350 hours training with post graduate qualifications, up to date working with children certificates and first aid.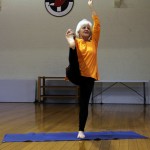 Principal Swami Prema Ananda
Diploma of Yoga, Roma Blair Yoga Studio, Sydney (Principal Swami Nirmalananda)
Initiated to Senior Swami by Swami Ananda Shakti (Joy McIntosh)
Master Practitioner in NLP, QT Melbourne
Krasner Hypnotherapy, QT Melbourne
Presenter
Author
Liz Polglaze & Nikki Rodgers
Liz and Nikki have been studying yoga for 17 years and 15 years respectively.  Both girls completed their teacher training with Inner Cor and have been teaching with us for approximately 18 months now. They have completed their postgraduate in Children's Yoga, hold Working with Children certificates and are first aid qualified. Liz is a qualified integration aid, making Liz a perfect teacher for our children's classes. Dedicated yogis, the girls have a passion for yoga that is reflected in every class they teach. Both Liz and Nikki follow the classic style of yoga, each perfecting their own special techniques and approach toward the art.