News - News
  2017
 What a great article and it is lovely to see Hatha Yoga being mentioned in such a positive way. 
      Family Night        Monday 3rd &10th July 2017      All Saint Hall, Newtown.
For the next 2 weeks Inner Cor Yoga is inviting Children, over 8, to attend the Monday night class, 7.30 – 8.30pm, accompanied by adult.                                               As it is School holidays, it is a perfect opportunity to introduce the Children to an activity that will help them be stress free, confident, fit, self empowered and it is fun.
Adult prices apply, children 8 – 15 years $5.00.
Don't miss this opportunity, Book Now: info@innercor.com.au  places are limited.
Vipassana:       13th – 15th October 2017                Werribee Mansion
To Book:     e:  info@innercor.com.au       or      info@workplace-ez.com.au
Eventbrite:   https://www.eventbrite.com/e/vipassana-bootcamp-for-the-mind-tickets-33266485955
Vipassana means:    "To see things as they really are"
A Vipassana is one of India's most ancient techniques of mediation.  This technique has been around for over 2000 years and will give the participant the same benefits today as yesterday if practiced.  This is an excellent introduction to achieving peace of mind, a happy and productive life and also gives us an insight to eliminating distractions this will encourage us to observe clarity, non-attachment and discipline so we can experience better time management, contentment in our personal lives, health and wellbeing and moving toward reducing stress levels long term.
We use physical exercise to tone and develop our physical body, why don't we use mental exercise to strengthen our minds?
     What can you expect?
Stress reducing techniques that last a lifetime
Weather permitting, a walking meditation
Feel amazingly well, calm and informed long after the weekend is over
2 nights accommodation at the magnificent Werribee Mansion and the stunning grounds
Food galore, local, fresh and beautifully presented nutritional food.  2 Dinners, 2 Breakfast, 2 Morning Teas, 2 Lunches, 2 Afternoon Teas
All inclusive, accommodation, all meals, lectures and guidance by Swami Prema Ananda
A surprize gift bag
Guest speaker TBA
And maybe, the most important is sitting face to face with yourself.  What an opportunity and what a life changing experience.
Werribee Mansion Spa is offering a 10% discount on Friday.  This is to be organized by you with the spa centre directly.
"A Vipassana is an experience never to be forgotten."
To book:        https://www.eventbrite.com/e/vipassana-bootcamp-for-the-mind-tickets-33266485955
More info:       info@innercor.com.au    or    info@workplace-ez.com.au
     When:        13th – 15th October 2017
     Where:        Werribee Mansion,  Werribee,  Victoria.
     Cost:            $1,790.00 early bird prior to 30th June 2017 or after the 30th June $2290.00
BOOK EARLY AND SAVE A HUGE $500.00   Numbers are limited to avoid disappointment book NOW
About the Swami Prema Ananda:
Swami Prema Ananda has been involved in Yoga Science for over 30 years. She is a teacher of Traditional Hatha Yoga and Mind Focus Meditations. Over the years she has trained many wonderful yoga teacher and touched the heart and soul of many many students. The first vipassana was such a success Swami Prema Ananda had to turn people away. It was at that point she made the decision to run a Vipassana each year and this  Vipassana will be Swami Prema Ananda's 16th and we can only hope there will be more to follow.
What has been said in the past:
"I didn't know what to expect but as the weekend went on I felt this amazing calmness. I can't explain it but it was mind blowing.  I have book to do the next one.  loved this one, can't wait for the next one."
"Swami said it was O.K to laid down, just as well as I would never have made it.  Having said that, the whole weekend was filled with food, beautiful food, outstanding accommodation, information, doing, sitting, eating in silence that is an experience everyone should have, first it was hard but then I loved every minute.  Will do it now at home."
"The weekend was ran very smoothly, to time every time, Swami Prema Ananda is so knowledgeable and  her method of delivery is unique and memorable.  It was not until a week or so after that I realized my stress levels had dropped, I was not so uptide at work and with the family.  I would highly recommend people to attend at least one Vipassana.  I am looking forward to attending my next one."
   Teacher Training:     2018
For information see Programs – Yoga  then Teacher Training.
Hasta Mudra  –  Hand Yoga   13th May 2017
Ended. 
The way we move our hand and fingers can have a huge effect on our thoughts and general wellbeing.                                                                                                                         Hasta Mudras movements helps to keep or regain flexibility in our hands and fingers, this can reduce the effects of such things as Arthritis.
This Hasta Mudras workshop is suitable for those who have not done yoga before and is suitable for experienced yogis and teacher alike.
It is a great honour having been asked by Swami Shakti Ananda to deliver the note she and Roma Blair used to teach their students over 60 years ago.
To Book:      https://www.eventbrite.com/e/hasta-hand-mudra-workshop-tickets-33388679439
When:          Saturday 13th May 2017
Were:           Vines Rd. Community Centre,  37 – 61 Vines Rd. Hamlyn Heights.
Time:            2.00 – 3.30pm
Cost:             $75.00 early bird     $85.00 general admission
Need more info:      info@innercor.com.au
WHAT THEY SAID:
"I had no idea that the hands could make you feel so good, it was like doing a workout."    p.l
"The amount of information we have been given is staggering, thank you so much" j.e.
"In a word WOW I will definitely be using these. The workshop was great because it was hands on, the notes are in depth, detailed, easy to follow and delivered in a most professional and caring way.  You are an outstanding teacher.  Thanks" m.p
 Bendigo Yoga Festival:   1st & 2nd April 2017       

Ended.
What a wonderful Festival. We all enjoyed it very much.
Inner Cor Yoga's, Swami Prema Ananda has been asked to lead a demonstration class at the Bendigo Yoga Festival, Sunday 2nd of April 2017, at 1pm.
To learn more visit:  www.yogafestival.com.au  or
visit:  www.facebook.com/bendigoyogafestival
Would love to see you there.
It doesn't matter if you are an experienced Yogi or a complete novice.  There will be something for everyone.
News for 2016
10th November 2016
Roy Morgan's article tells us Yoga is the fastest growing fitness activity in Australia.
To read more:
Article No. 7004
Available on www.roymorgan.com Link to Roy Morgan Profiles
Thursday 24th October 2016
My newest book "Famously Unknown Quotes by a Famously Unknown Author" will be released week commencing 31st October 2016. The book has been written at night while I slept.  I know that seems strange, but that is just the way it happened.                               All the quotes are original and the illustrations are all hand done.
To order a copy or additional information please email:    info@innercor.com.au
Monday 25th July 2016
The 84 Classics
Originating in India over 2 millennia ago, yoga truly is a remarkable and wondrous gift to mankind. Regarded as a philosophy, a science and an art, yoga in its purest form is a pure system capable of responding to the needs of humanity. The word Yoga is Sanskrit and means union or yoke, implying the integration of every aspect of the human being. It is mind control over body, yoking the individual soul to God or the Absolute. Yoga is not a religion; rather a source, or a system. Incorporating the mind, body and spirit, the main goal of yoga is to restore the mind to simplicity and peace freeing it from confusion and distress.
Throughout the ages, different schools of yoga have taught and focused on different aspects, however all schools of yoga branch from same ideological foundation. This basis seeks to better the individual, but more broadly, humanity.
Though yoga has developed over the years, and the number of asana grown, there exists, what is known as the 84 Classics – 84 classical asana listed in the Hatha Yoga Pradipika as the basis of traditional Hatha Yoga.
Each week we will share one of the 84 Classics with you to accompany you on your yogic journey.
Advasana – Reverse Corpse pose
Translation:                Adva = Below
Technique:    
Lie face-down. Turn head to one side, Stretch both arms overhead alternatively the arms may rest beside the body with palms facing up. Relax the ankles.
Benefits:
Relaxation
Assist in relieving tension headaches
Helps improve slipped Disc and stiffness in the neck
Assist in prevention of a stooping back
2016
May
Inner Cor Yoga is currently looking for a qualified yoga teacher interested in teaching in Port Melbourne. If this is you, please contact Swami Prema Ananda on 0407 840 702 or info@innercor.com.au
March
Our latest lot of gorgeous teacher training graduates! Amelia Webb, Abbey Jacobsen, Ruth Parker, Emma Armstrong and Lesley Hughes. We are so very excited for what the future holds for these wonderful women!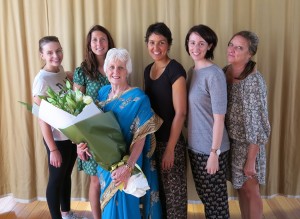 2015
April
We are excited to congratulate our wonderful teacher trainers on all passing their exams. A great job well done to Nicole Wingert, Kristy Van Roosmalen and Kellie Spark on completion their Diploma Of Yoga, and to Terri Grote for completing her Personal Yogic Development Course.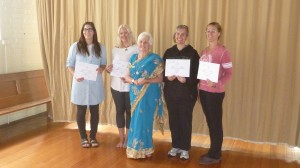 March
Listen to Swami Prema Ananda on Pulse FM talk about yoga, wellness and mindfulness. 
2014
How to de-stress your Christmas
Pauline chatted with Yarra Valley FM's Charlene about how to destress this Christmas – have a listen – http://www.yarravalleyfm.com/#!valley-27/cory
Christmas Breakup 2014
Inner Cor Yoga would like to thank all of the staff and students that came and celebrated the Christmas holidays at Cucina One 12 on November 28th. It was a wonderful evening shared by all and a testament to the wonderful yoga family that we're all a part of.

November 2014 To be mindful – or not to be?
Mindfulness – are you up with it, starting it, or simply lost in it? Words, like so many things in this fast moving world we live, work and play in, come and go so fast. So what's trending right now? At the time of writing this article it was 'mindfulness' but by the time I'm finished I'm sure it will have changed.
It seems to me that 'mindfulness' is the new kid on the block, companies and individuals alike knowing that this word will increase bottom lines, assist in moving forward, then at the end of the day here will be yet another word that will excite us into chasing success just like all the other 'trending' words that have come and gone – many of us not catching on to them until it is too late.
Then we are left with a feeling of did I miss out on something? Could I have been more successful if I'd only heard of these words sooner? What would my bottom line look like now? How far could I have travelled? At the end of the day, the reality is that we are where we are because of the work we have put in or not. A word will not change the outcome.
However, putting that word into action will have a huge bearing on the outcome. Now we ask ourselves – what can practicing mindfulness do for us in our busy lives?
Historically, men would spend their days doing what they did, mindfully.
If they were taking the opportunity to sit quietly and think, or plan some new and exciting venture, it was done with full mind attention. If they were completing a task, it was completed mindfully, without error or distraction, executing it on time and without stress. In today's world though, we wear business like a badge of honour, rushing from one thing to the next not stopping to enjoy what it is we are doing, right here and now, in the moment. There is almost an unspoken competition to see who is the busiest, and the most stressed, announcing with almost a deep excitement that "I have to take the children to school, be at work on time, but this traffic is so bad I'll probably be late, and there'll be no one to cover my workload, I'll have to stay late. My job is so stressful. And I haven't organised anything for dinner tonight – I'll have to go grocery shopping on my lunch break. But I've got a lunch meeting – I'll have to go after work, before the kids need to be picked up from school and taken to footy training, dance lessons and singing. And then to help them with homework. There are not enough hours in the day!"
Just think how life could be so different if only one took the time each morning as we wake up, just to be pleased that we have woken up and the day awaits us like a sheet of white paper for us to write on every day, then fold it away at night when we go to bed. The white paper is ours to write whatever we please; it can be filled with stress and negative words, or it can be filled with thanks, joy, pleasure and fulfilment.
By just getting out of bed even half an hour earlier, we have time to plan the day, be mindful of the jobs at hand, slow down and enjoy the morning's activities such as eating breakfast. I have never heard of anyone dying from sleep-deprivation by rising in the morning by just half an hour.
Here are a few tips for introducing mindfulness into your life:
Run a diary. Each weekend sit down and schedule in the week's meals, shopping, the children's activities and any extra things you need to do.
Always remember that 'no' is a perfectly acceptable answer – we do not have to accept and attend every invitation offered to us.
Children do not need to attend several sports or activities a week and they don't need to have a playdate or sleep-over every other week. Children too, like to have down time, time to think, time to readjust their minds and be mindful. Children do this much better than we give them credit for and they do it much better than adults. They only act the way they see the adults around them acting.
Let's be mindful of each and every job we do; do it with love, joy, and acceptance. Slow down and enjoy each minute of our day as we focus on the task at hand. Do you want to look back on your life in 50 years and think "oh, have I done that? did I actually do that? I can't really remember that amazing overseas trip, or my daughter's graduation, or my son's birthday. Maybe if I stopped rushing around, I would remember a better life?"
Slow down, be mindful, keep focused on your journey and enjoy it, as you may not like the destination.
To find out more about introducing mindfulness and its benefits into your life, simply contact Inner Cor Yoga.
For contact details visit http://innercor.com.au/contact/
Radio
Interview on 6PR Perth – Yoga to help battle childhood obesity
Press Release – September 2014
Obesity Cripples the Young and Vulnerable 
1 in 4 – yes that is 1 in 4 – Australian children are overweight or obese according to the Australian Institute of Health and Welfare.
Overweight and obesity carry with them not only significant health impacts but psychological and social problems as well;[i] problems such as bullying, victimisation and discrimination, which all have a heavily negative impact on the child and which too carries on into adulthood. While partaking in regular physical activity helps to build and maintain healthy bodies[ii], practices such as yoga build a healthy mind. The practice of yoga promotes self-discipline and taking responsibility for one's own body and increases physical fitness while strengthening the mind. The mind becomes more focused thus enhancing children's learning and imagination.
While the scientific data on yoga is still being compiled, the benefits of yoga to both mind and body have been known to different cultures around the world for centuries. Whether it is for wellness of the mind or for the great physical benefits yoga offers, we are definitely seeing a rise in its popularity in our own country. According to the Australian Bureau of Statistics, in 2003 311,000 people had tried yoga at least once in the preceding twelve months. To put that into some sort of perspective, for the same period in the same year only 307,900 people had participated in Australian Rules football.
Just as with adults, the benefits of yoga for all children, regardless of age, are endless. Current data shows that one-quarter, or 600,000, of all Australian children aged between 5 and 17 years old were overweight or obese. Further research[iii] shows that once children become obese, not only are they at increased risk of short-term and long-term health conditions, but are they are more likely to carry their obesity over into adulthood.
Kathy Graham's article on the benefits of yoga[iv] outlines the study completed by Australian researcher Pauline Jenson of the effects of yoga on boys between the ages of 8 and 13 who were diagnosed with Attention Deficit Hyperactive Disorder, commonly known as ADHD. The boys participated in a gentle form of yoga once a week and after 20 weeks, Ms Jenson found the boys to be less moody, angry, restless or impulsive.
Children's yoga, particularly as a program implemented in schools, is a relatively new concept. It is however one with the potential to make a powerful impact. Programs for children, as with adults must be tailored to suit the specific needs of different age groups. A carefully structured program will reduce stress in children while at the same time teaching various coping mechanisms to deal with stress. Yoga can have a great and healthy impact on self-confidence, not to mention the way in which children deal with confronting situations such as bullying and intimidation.
Yoga provides children with useful skills that they can take with them into adulthood, not to mention the enabling of a smoother transition from adolescence to adulthood in the first instance.  Children typically gain a more positive outlook towards their future and are easily able to apply themselves in all areas of their study and maintain a healthy balance in their lives.
Written by Pauline Rooney (Swami Prema Ananda)
– Swami Prema Ananda has over 35 years' experience